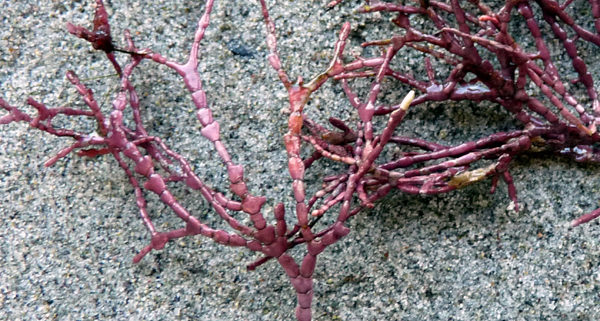 Author: Raymond Sito, Paul Guevarra, and Duncan Bailey
Common Name: Coral Leaf Seaweed
Scientific Name: Calliarthron spp. and Bossiella spp.
Identifying Features: The reddish-pink thalli are hard having cell walls with calcium carbonate.  It has uncalcified joints that allow it to flex and wave in the current.  Dead specimens appear white resembling a skeleton.
Habitat: The coralline algaes similar to these species are common on rocky shore lines and around the rim of tidepools or in the cracks and crevices of large rocks and fissures.
https://www.vichighmarine.ca/wp-content/uploads/2017/03/Coral-Leaf-Seaweed.jpg
480
600
adam.james
https://www.vichighmarine.ca/wp-content/uploads/2016/10/logo-300x253.png
adam.james
2017-03-07 13:01:04
2019-09-16 02:21:40
Coral Leaf Seaweed